Love From Lizi May 2019 Challenge – Pline
Love From Lizi May 2019 Challenge
Merci Lizi pour ce concours ! Thanks !
Challenge : Love From Lizi May 2019 Challenge
Theme : « Capture the moment »
Deadline : 26th May 2019
Link : https://www.lovefromlizi.com/blog/post/love-from-lizi-may-2019-challenge
« Snap happy » : this is the theme of the kit. I haven't had time to have fun with it yet, but I used it to create a personalized card. My mother and her colleague (with their class) organized an exhibition on Belgian surrealism a few days ago. Unfortunately, I wasn't able to congratulate them verbally. I hope that my « wink to Magritte » will please them. It was the first time I painted with acrylic and for the moment... I hate it ! I probably didn't use the right paper. I'll have to use this painting again to erase such a bad impression...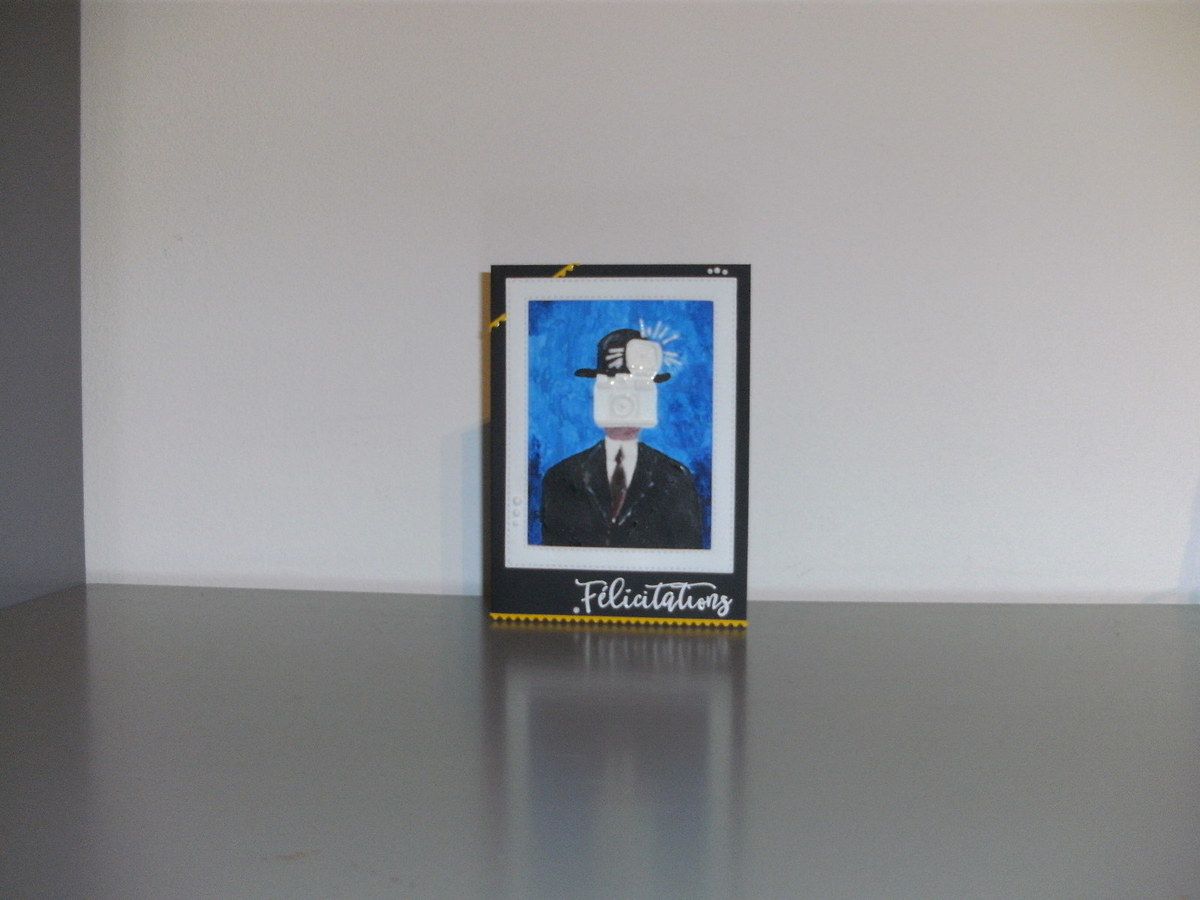 Matériel utilisé / Supplies :
- Love from Lizi – May 2019 kit (black cardstock, « Snap Happy » Stamp Set, Sway Stripe Peel-Off Stickers « Yellow »)
- acrylic (black, blue, red, white)
- Nuvo Crystal Drops « White »
- White cardstock (with texture)
- Feuille de mousse 3D blanche - White foam sheet
- Tsukineko - mini encreur versamark /Tsukineko Emboss Cube Watermark Stamp Ink Pad
- Artemio – poudre à embosser « blanc » / white embossing powder
- Matrice de découpe « fausse couture » cadre / Stiched frame die
- Clear stamp « Félicitations »
- White cardstock (with texture)
- Canson – 300 gr - papier aquarelle /watercolour paper
- Clairefontaine DCP 210g blanc